February 22, 2013
Jon Jang, Chinese American pianist, educator and jazz musician: Silent Histories, Musical Voices
Image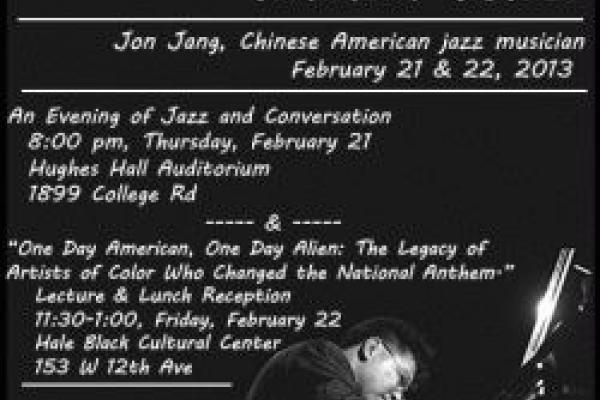 Description
Asian American Studies hosted Jon Jang, a Northern California-based, Chinese American educator and jazz musician for an evening talk entitled "Evening of Jazz and Conversation,", as well a mid-day seminar the following day, entitled "One Day American, One Day Alien: The Legacy of Artists of Color Who Changed the National Anthem."
Both of these events combined performance with audience discussion and comments from Jang about his own negotiation of racial and cultural borders, as well as the intersections of aesthetics and politics. The seminar focused particularly on histories of The Star Spangled Banner from Jose Feliciano's version in 1968 at the World Series in Detroit, Jimi Hendrix, Marvin Gaye, Armando Perez and Carlos Ponce version in Spanish criticized by Bush, Rene Marie's merging of The Star Spangled Banner with Lift Ev'ry Voice and Sing (African American National Anthem) for the Mayor of Denver and even a 1943 version sung by Chinese children in the film, Thirty Seconds Over Tokyo.
---
Jang has described his own work as an endeavor that "gives a musical voice to a history that has been silent." Much of his work has dealt with constructing representations of a chronology of Chinese American history in San Francisco. Commissioned by the Sacramento Philharmonic Orchestra and Oakland East Bay Symphony, Jang composed The Chinese American Symphony, a work that pays tribute to the Chinese who built the first transcontinental railroad in United States. The work premiered in 2007 in Sacramento, California and in 2008 in Oakland.
Other works include Unbound Chinatown (2007), Paper Son, Paper Songs (2006) Island: the Immigrant Suite No. 2 for the Kronos Quartet and Cantonese Opera Singer (1995) inspired by the poetry of Chinese immigrants who were detained at Angel Island Immigration Station in San Francisco during 1910-40, the score for the dramatic adaptation of Maxine Hong Kingston's The Women Warrior (1994) and When Sorrow Turns to Joy – A Musical Tribute to Paul Robeson (2002) inspired by Robeson's collaboration with a Chinese choir in 1941. Jang has recorded with Max Roach, James Newton and David Murray. His ensembles have toured at major concert halls and music festivals in China, South Africa (1994), Europe, Canada and the United States. In 2001, Jon toured with Max Roach as part of a trio in Zurich, Berlin, Milan and the Royal Festival Hall in London.
Jon Jang received a mid-career visionary artist award from the Ford Foundation in 2006. He joined Bernice Johnson Reagon as two of four Visiting Fellows at Stanford University in 2007 as part of the Stanford Institute for Diversity in the Arts. Jang has received commissions and grants from Creative Work Fund (1999, 2006), San Francisco Arts Commission (1995, 1998, 2002, 2006), Meet The Composer New Residences (2000-2003), Chanticleer (1999), The Library of Congress (1999), Rockefeller MAP Fund (1997, 2002), Creative Capital (2000-2003), Meet The Composer (1995), Kronos Quartet (1995) and NEA Jazz Composition Fellowship award (1995).
---
Cosponsors:
Asian American Studies (a unit within DISCO)
Asian American Association
Department of African American & African Studies
Department of Comparative Studies
Department of East Asian Languages & Literatures
Department of History
Department of History Race, Ethnicity & Nation Constellation
Division of Arts & Humanities Diversity Enhancement Program
Diversity and Identity Studies Collective at OSU (DISCO)
East Asian Studies Center
Graduate Pan Asian Caucus
Institute for Chinese Studies
Humanities Institute
Jazz Studies
Multicultural Center
Office of Diversity and Inclusion
---
[accessibility] - For a complete text version of the News image, please see its text-version page.
---