Image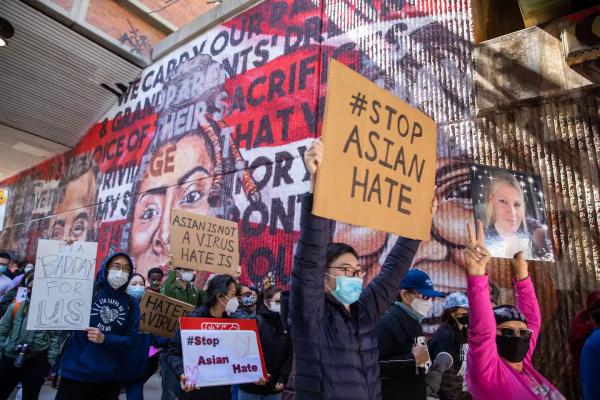 April 15, 2021
3:00PM - 4:30PM
Date Range
Add to Calendar
2021-04-15 15:00:00
2021-04-15 16:30:00
Anti-Asian Racism After Atlanta: Assessing the Moment
Asians/Asian Americans/APIDA communities have been reeling with the spike in anti-Asian racism this past year. The murders of six Asian women in Atlanta on March 16 have placed a mainstream spotlight on these communities, their/our histories, and the racism they/we experience, and voices are being heard today that have been invisible to most in the US.  And yet there are many questions to answer.  What's behind the rise in racism and violence?  Will the US continue to pay attention?  Can we effect lasting change, and what would that look like?  How can we build lasting solidarity across different communities of color? What is the role of Asian American Studies and Ethnic Studies in this process? Speakers: Joey Kim, Ph.D. (U. of Toledo).          Arun Venugopal  (WNYC)    Joe Ponce, Ph.D. (OSU).                    Molly Jasina (OSU)                         This event is free and open to the public (CC available). Please register for this event For more information, contact  Asian-American Studies Director Pranav Jani About Our Speakers: Dr. Joey S. Kim is a scholar, creative writer, and Visiting Assistant Professor of English at the University of Toledo. Kim researches global Anglophone literature of the long nineteenth century, global Asian culture, and multiethnic U.S. literatures. Her research has been supported by the National Endowment for the Humanities, the American Antiquarian Society, the Boston Athenaeum, the Society of Nineteenth-Century Americanists, and others. Her scholarly and public-facing work has been published in the LA Review of Books, Shondaland, Essays in Romanticism, Pleiades: Literature in Context, The Keats-Shelley Journal, The Journal of Global Postcolonial Studies, and elsewhere. She is also a Pushcart Prize-nominated poet, and her award-winning debut book of poems, Body Facts, will be released by Diode Editions on June 15, 2021. Twitter: www.twitter.com/joeykim Arun Venugopal is Senior Reporter in the Race & Justice Unit at WNYC in New York.  He also serves as a guest host at Fresh Air, regularly sitting in for Terry Gross, and often contributes to NPR's Morning Edition and All Things Considered. He has appeared on PBS Newshour and CBS News and has been published in The Guardian, The Wall Street Journal, the New York Times and most recently The Atlantic, where his article 'The Making of a Model Minority' was featured. He lives with his family in Jackson Heights, Queens. Dr. Joe Ponce is a faculty member in the English department at Ohio State and the author of Beyond the Nation: Diasporic Filipino Literature and Queer Reading. His teaching and research interests focus on Asian American, African American and comparative U.S. ethnic literatures and cultures, queer of color and queer diasporic critique, and histories and theories of U.S. empire. He is a former co-coordinator of the Asian American Studies Program, Sexuality Studies Program and the Diversity and Identity Studies Collective (DISCO). Molly Jasina is a third-year undergraduate student majoring in neuroscience and minoring in linguistics. She is an OSU Humanities Scholar and mentor in the Multicultural Center's APIDA mentorship program. She is currently working in Dr. Speer's psycholinguistics lab and hopes to pursue a career in research. Co-sponsored by: Department of East Asian Languages and Literatures East Asian Studies Center South Asian Studies Initiative Department of Near Eastern Languages & Cultures Multicultural Center College of Arts & Sciences - Diversity, Equity & Inclusion Office of International Affairs Kirwan Institute for the Study of Race and Ethnicity OPAWL - Building AAPI Feminist Leadership in Ohio
Zoom
OSU ASC Drupal 8
ascwebservices@osu.edu
America/New_York
public
Date Range
Add to Calendar
2021-04-15 15:00:00
2021-04-15 16:30:00
Anti-Asian Racism After Atlanta: Assessing the Moment
Asians/Asian Americans/APIDA communities have been reeling with the spike in anti-Asian racism this past year. The murders of six Asian women in Atlanta on March 16 have placed a mainstream spotlight on these communities, their/our histories, and the racism they/we experience, and voices are being heard today that have been invisible to most in the US.  And yet there are many questions to answer.  What's behind the rise in racism and violence?  Will the US continue to pay attention?  Can we effect lasting change, and what would that look like?  How can we build lasting solidarity across different communities of color? What is the role of Asian American Studies and Ethnic Studies in this process? Speakers: Joey Kim, Ph.D. (U. of Toledo).          Arun Venugopal  (WNYC)    Joe Ponce, Ph.D. (OSU).                    Molly Jasina (OSU)                         This event is free and open to the public (CC available). Please register for this event For more information, contact  Asian-American Studies Director Pranav Jani About Our Speakers: Dr. Joey S. Kim is a scholar, creative writer, and Visiting Assistant Professor of English at the University of Toledo. Kim researches global Anglophone literature of the long nineteenth century, global Asian culture, and multiethnic U.S. literatures. Her research has been supported by the National Endowment for the Humanities, the American Antiquarian Society, the Boston Athenaeum, the Society of Nineteenth-Century Americanists, and others. Her scholarly and public-facing work has been published in the LA Review of Books, Shondaland, Essays in Romanticism, Pleiades: Literature in Context, The Keats-Shelley Journal, The Journal of Global Postcolonial Studies, and elsewhere. She is also a Pushcart Prize-nominated poet, and her award-winning debut book of poems, Body Facts, will be released by Diode Editions on June 15, 2021. Twitter: www.twitter.com/joeykim Arun Venugopal is Senior Reporter in the Race & Justice Unit at WNYC in New York.  He also serves as a guest host at Fresh Air, regularly sitting in for Terry Gross, and often contributes to NPR's Morning Edition and All Things Considered. He has appeared on PBS Newshour and CBS News and has been published in The Guardian, The Wall Street Journal, the New York Times and most recently The Atlantic, where his article 'The Making of a Model Minority' was featured. He lives with his family in Jackson Heights, Queens. Dr. Joe Ponce is a faculty member in the English department at Ohio State and the author of Beyond the Nation: Diasporic Filipino Literature and Queer Reading. His teaching and research interests focus on Asian American, African American and comparative U.S. ethnic literatures and cultures, queer of color and queer diasporic critique, and histories and theories of U.S. empire. He is a former co-coordinator of the Asian American Studies Program, Sexuality Studies Program and the Diversity and Identity Studies Collective (DISCO). Molly Jasina is a third-year undergraduate student majoring in neuroscience and minoring in linguistics. She is an OSU Humanities Scholar and mentor in the Multicultural Center's APIDA mentorship program. She is currently working in Dr. Speer's psycholinguistics lab and hopes to pursue a career in research. Co-sponsored by: Department of East Asian Languages and Literatures East Asian Studies Center South Asian Studies Initiative Department of Near Eastern Languages & Cultures Multicultural Center College of Arts & Sciences - Diversity, Equity & Inclusion Office of International Affairs Kirwan Institute for the Study of Race and Ethnicity OPAWL - Building AAPI Feminist Leadership in Ohio
Zoom
Asian American Studies
aas@osu.edu
America/New_York
public
Description
Asians/Asian Americans/APIDA communities have been reeling with the spike in anti-Asian racism this past year. The murders of six Asian women in Atlanta on March 16 have placed a mainstream spotlight on these communities, their/our histories, and the racism they/we experience, and voices are being heard today that have been invisible to most in the US.  And yet there are many questions to answer.  What's behind the rise in racism and violence?  Will the US continue to pay attention?  Can we effect lasting change, and what would that look like?  How can we build lasting solidarity across different communities of color? What is the role of Asian American Studies and Ethnic Studies in this process?
Speakers:
Joey Kim, Ph.D. (U. of Toledo).          Arun Venugopal  (WNYC)   
Joe Ponce, Ph.D. (OSU).                    Molly Jasina (OSU)                        
This event is free and open to the public (CC available).
Please register for this event
For more information, contact  Asian-American Studies Director Pranav Jani
About Our Speakers:
Dr. Joey S. Kim is a scholar, creative writer, and Visiting Assistant Professor of English at the University of Toledo. Kim researches global Anglophone literature of the long nineteenth century, global Asian culture, and multiethnic U.S. literatures. Her research has been supported by the National Endowment for the Humanities, the American Antiquarian Society, the Boston Athenaeum, the Society of Nineteenth-Century Americanists, and others. Her scholarly and public-facing work has been published in the LA Review of Books, Shondaland, Essays in Romanticism, Pleiades: Literature in Context, The Keats-Shelley Journal, The Journal of Global Postcolonial Studies, and elsewhere. She is also a Pushcart Prize-nominated poet, and her award-winning debut book of poems, Body Facts, will be released by Diode Editions on June 15, 2021. Twitter: www.twitter.com/joeykim
Arun Venugopal is Senior Reporter in the Race & Justice Unit at WNYC in New York.  He also serves as a guest host at Fresh Air, regularly sitting in for Terry Gross, and often contributes to NPR's Morning Edition and All Things Considered. He has appeared on PBS Newshour and CBS News and has been published in The Guardian, The Wall Street Journal, the New York Times and most recently The Atlantic, where his article 'The Making of a Model Minority' was featured. He lives with his family in Jackson Heights, Queens.
Dr. Joe Ponce is a faculty member in the English department at Ohio State and the author of Beyond the Nation: Diasporic Filipino Literature and Queer Reading. His teaching and research interests focus on Asian American, African American and comparative U.S. ethnic literatures and cultures, queer of color and queer diasporic critique, and histories and theories of U.S. empire. He is a former co-coordinator of the Asian American Studies Program, Sexuality Studies Program and the Diversity and Identity Studies Collective (DISCO).
Molly Jasina is a third-year undergraduate student majoring in neuroscience and minoring in linguistics. She is an OSU Humanities Scholar and mentor in the Multicultural Center's APIDA mentorship program. She is currently working in Dr. Speer's psycholinguistics lab and hopes to pursue a career in research.
Co-sponsored by:
Department of East Asian Languages and Literatures
East Asian Studies Center
South Asian Studies Initiative
Department of Near Eastern Languages & Cultures
Multicultural Center
College of Arts & Sciences - Diversity, Equity & Inclusion
Office of International Affairs
Kirwan Institute for the Study of Race and Ethnicity
OPAWL - Building AAPI Feminist Leadership in Ohio
---