September 15, 2022
Statement on the Police Shooting of Donovan Lewis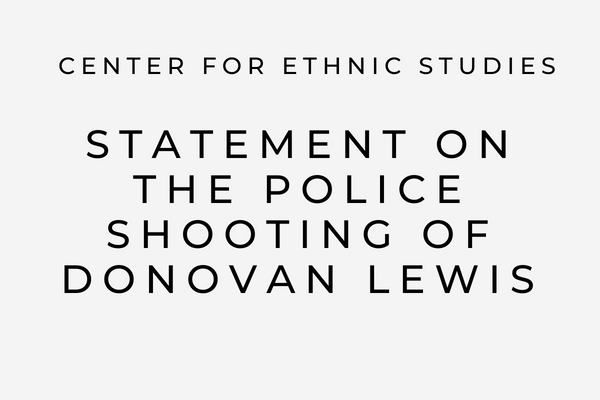 The Center of Ethnic Studies at Ohio State, which includes the American Indian Studies, Asian American Studies, and Latino/a Studies Programs, sends our sympathies and solidarity to the family of Donovan Lewis, a 20-year-old Black man who was killed by Columbus Police in the early hours of Tuesday, August 30, 2022.  Within one second of opening the door, Lewis was killed when Columbus K9 officer Ricky Anderson fired into his bedroom. Body camera evidence confirms he didn't have a gun.

We stand in solidarity with the protests and rallies emerging across Columbus, including here at Ohio State on Friday September 2. Specifically, we support the demands made by students at Ohio State at the rally, led by Black students who knew Donovan Lewis personally, including their concerns that rather than acknowledging Lewis' death and condemning such police actions, Ohio State continues to deepen its ties with CPD. As students stated, Ohio State needs to "play a bigger role in the Columbus community towards the prevention of these tragedies."

We attest, finally, that talking about race and structural racism in Columbus and in the USA must include discussion of police violence and police brutality against Black people and BIPOC communities. Our concepts of safety and freedom from harm need to include an understanding that for Black and many Native, Asian American, Latinx communities and others, this includes safety from violence meted out by police, border patrol, and federal agents.

We can begin such dialogues by acknowledging, at the very least, the pain and suffering that Donovan Lewis' killing has caused to his family, his friends (which include members of our own OSU community), and wider communities in Columbus.
 
Sincerely,
Pranav Jani, Program Director, Asian American Studies
Namiko Kunimoto, Director, Center for Ethnic Studies
Leila Veira, Associate Director, Center for Ethnic Studies
Paloma Martinez-Cruz, Program Director, Latina/o Studies
Elissa Washuta, Program Director, American Indian Studies
---